The carpal tunnel is a narrow passageway on the palm side of your wrist made up of bones and ligaments. The median nerve, which controls sensation and movement in the thumb and first three fingers, runs through this passageway along with tendons to the fingers and thumb. When it's pinched or compressed, the result is numbness, tingling, weakness, or pain in the hand, called carpal tunnel syndrome.
In general, anything that irritates or compresses the median nerve in the carpal tunnel space can lead to carpal tunnel syndrome. For example, a wrist fracture can narrow the carpal tunnel and irritate the nerve, as can the swelling and inflammation resulting from rheumatoid arthritis. It is also believed to be caused by repeated movements or the overuse of the wrist and hands. In many cases, no single cause can be identified. It may be a combination of events that contribute to the development of the condition.
Try these exercises to prevent or help alleviate some of the symptoms associated with Carpal Tunnel Syndrome:
Fist Clench
Clench together the fingers of one hand into a tight fist shape, then release your fingers and spread them wide. Repeat this five times and do the same to the other hand. Repeat as needed.
Wrist Circles
Extend out your fingers until they are straight, holding the second and third finger a little higher than all the rest. Draw 5-10 clockwise circles in the air with the two finger tips. Draw 5-10 more counterclockwise circles. Repeat with the other hand.
Myofascial Release
For this next exercise, grab your foam roller, tennis ball, or any other myofascial release tool of your choice. Use it to gently roll up and down the length of the forearm, applying pressure to any trigger points or sore spots that you may come across. Rolling back and forth on the fascia will reduce tension around the carpal tunnel, freeing the pinched median nerve and restoring full function of the hand. Be sure to roll the forearm from multiple angles (see image below) to ensure that you are releasing both the wrist flexors and wrist extensors. Roll each muscle group for approximately 15-30 seconds. Repeat as needed.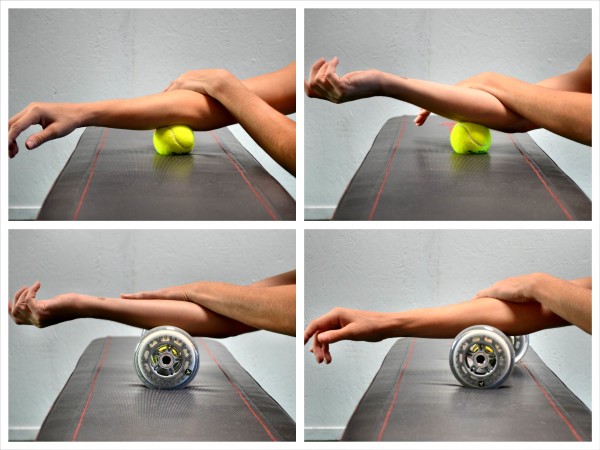 Forearm Stretches
Wrist Flexor Stretch
Hold one arm straight out in front.
Use the other hand to bend the wrist and point the fingers towards the floor (palm facing away from body), applying gentle pressure
Hold for between 10 and 30 seconds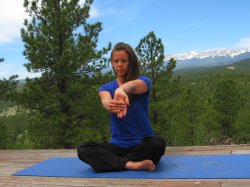 Wrist Extensor Stretch
Hold one arm straight out in front.
Use the other hand to bend the wrist and point the fingers towards the floor (palm facing body), applying gentle pressure
Hold for between 10 and 30 seconds